Top 7 Crispest Wedding Trends This Fall
There's a lot to love about weddings this fall. From jewel-toned color palettes, to wild-looking bouquets and the new naked cake, these trends are taking over the wedding scene this season.
Color Trends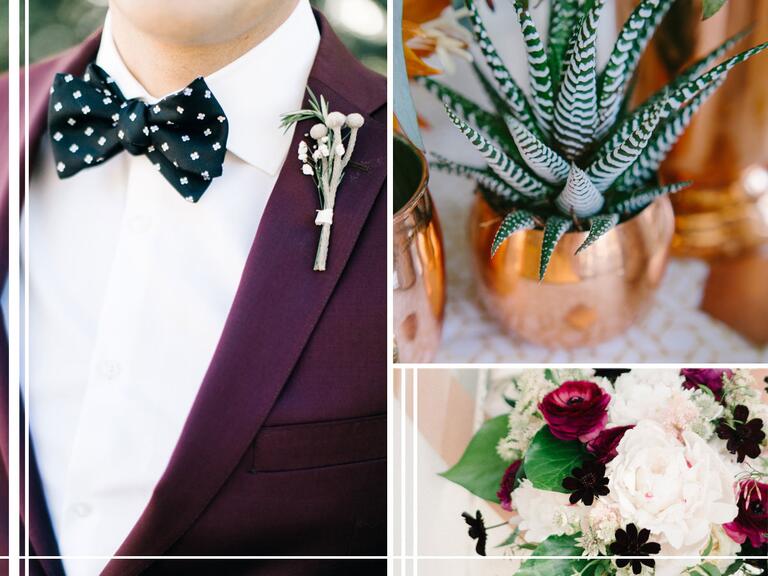 A moody range of plum and burgundy are leading the way in wedding color schemes. Pastel and neutral accents are still the most popular complementary colors, but those preppy spring hues have a veil of frost over them. Blue is more misty, blush is more iced over and crisp white is replaced with ivory to create a deeper Victorian palette. The dark hues are reminiscent of the naturally changing surroundings, while the weathered pastels add just a touch of romance.
Finishing Touches: Accent your color palette with a metallic. Reflective metallics have brightening qualities that add multidimensional depth to any color palette. The hottest hue this season? Copper.
Cake Trends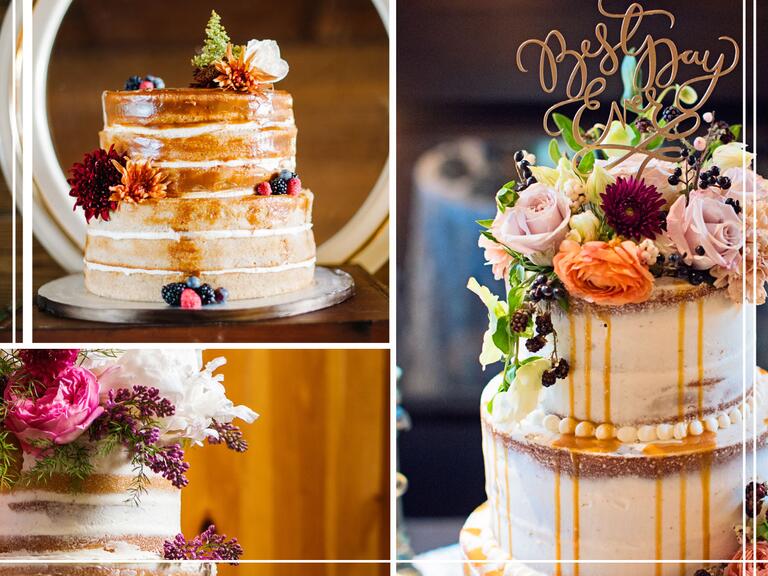 Humble tiers and topper-less cakes have officially arrived for the season. Rather than adorning cakes with fondant designs or sugar flowers, couples are opting for a clean, textured look, dressed up with small bunches of blooms or greenery. There's even a new version of the naked cake that's taking over the scene: translucent cakes. Instead of totally bare tiers, translucent cakes have a thin veil of frosting with just a bit of the cake showing through. Dress it up with flavorful drizzles of caramel or ganache. As for the size of the wedding cake, it's shrinking—couples still hold stock in the classic notion of cutting the cake, but they're supplementing it with fun, unique treat alternatives come dessert time.
Finishing Touches: Opting for a smaller cake means you're going to need a second-string dessert to serve your guests. The hot pick right now is a tried-and-true seasonal favorite—pie!
Stationery Trends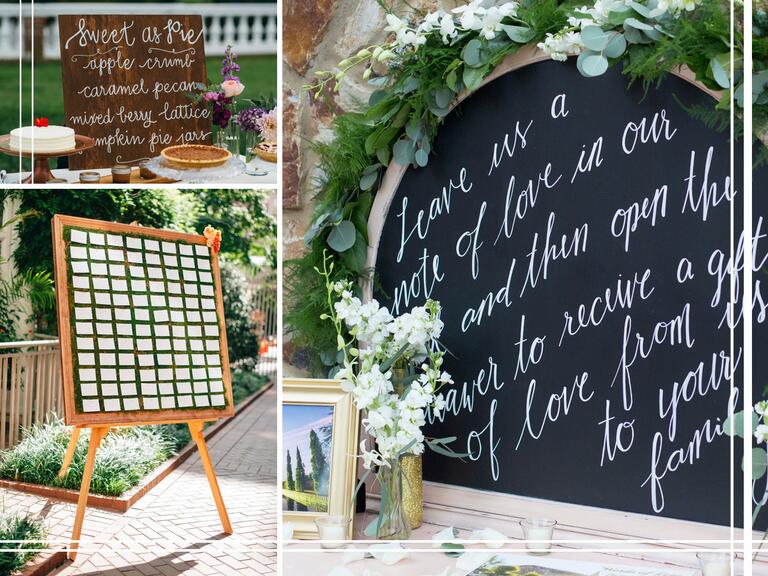 Fall weddings are about embracing the whimsy in the air, and what better way to do that than with an invitation suite of breezy calligraphy and motifs of graceful garlands. When it comes to day-of stationery, ditch the individual pieces of paper for big personalized signage. Blackboards as cute welcome signs by the venue entrance, mirrors with calligraphed cocktail offerings for the happy hour and even a big escort board presentation all score points in the décor department.
Finishing Touches: Give your signage some romantic border treatments with eucalyptus or lemon leaf garlands, and accent with a few vines of florals (think: clematis or wisteria).
Fashion Trends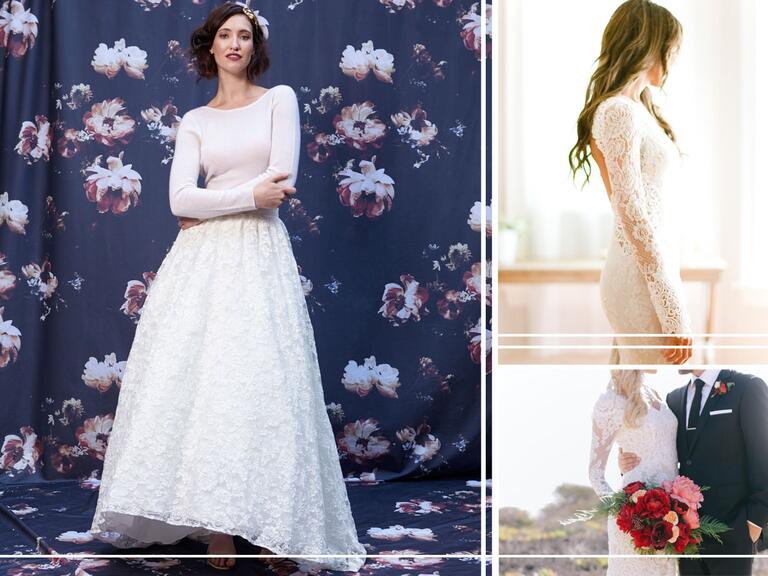 With dropping temperatures come longer sleeves and cozy layers. Two-piece separates are the bridal fashion trend not to be missed. Cashmere sweaters are meeting their perfect match with luxe, full-length skirts for a totally personalized look.
Finishing Touches: The second dress is making waves. Come reception time, slip into a fun little number that allows you to dance the night away.
Flower Trends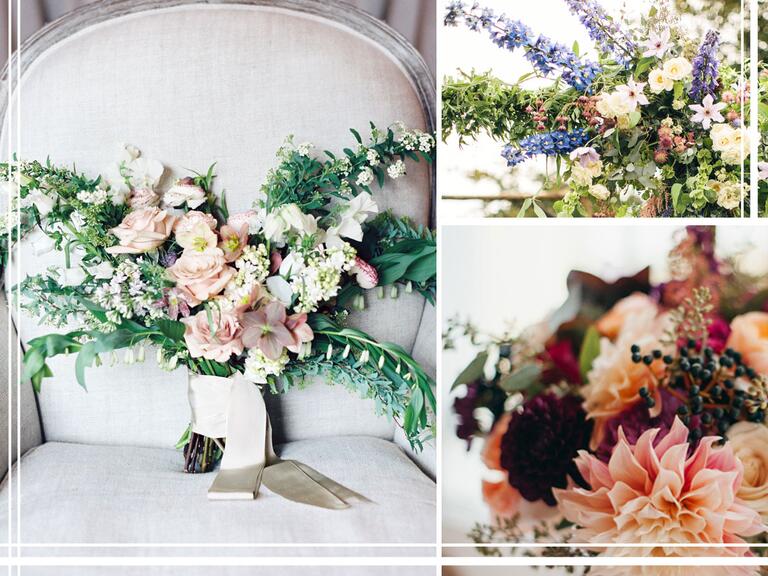 Freshly picked, wild-looking bouquets are still reigning in the land of florals. The hottest stem? Wine-colored dahlias. For tabletops, arrangements are looking more green and leafy—think: succulents, eucalyptus, wheat greens, acacia and bay leaf branches. Additionally, rather than blooms, pops of color are provided by berries like Brazilian pepper berries, hypericum berry sprays or raspberries.
Finishing Touches: Small vines of ivy elongate the shape of traditionally arranged bouquets, giving them a whimsical appeal, while unexpected add-ins, like thistle and small leafy twigs, capture the spirit of the outdoors.
Food Trends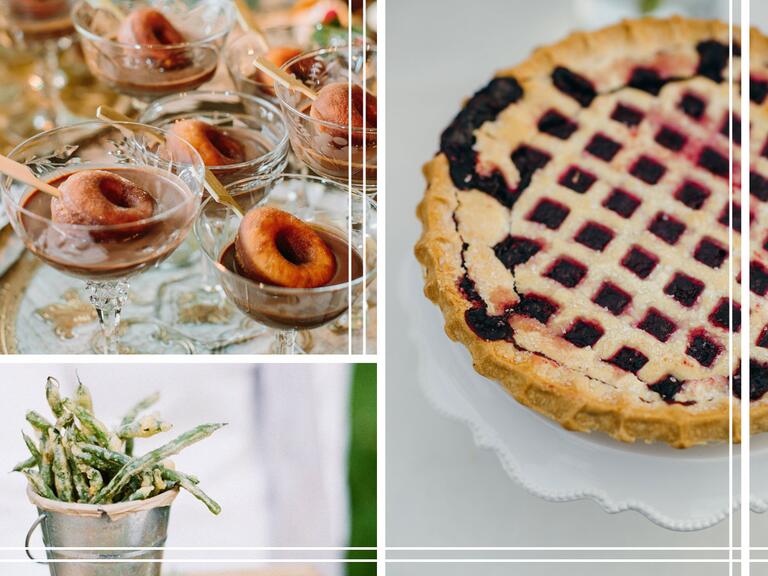 Creative food and drink stations are having a moment. We're not just talking dessert bars here—we're talking gourmet coffee stands, passed appetizers, build-your-own taco bars and even barbeque sauce stations. Wedding décor and attire aside, this is one of the best ways to personalize your reception and share a truly unique experience with your guests. Lean on seasonal, local flavors to get the best possible flavors.
Finishing Touches: Depending on what type of station is best for your budget, consider hiring an expert to really round out the experience. A barista who knows the ins and outs of coffee beans can recommend brews to your friends and family. Similarly, for a cocktail or craft beer bar, a certified mixologist can wow them with bartender tricks.
Reception Trends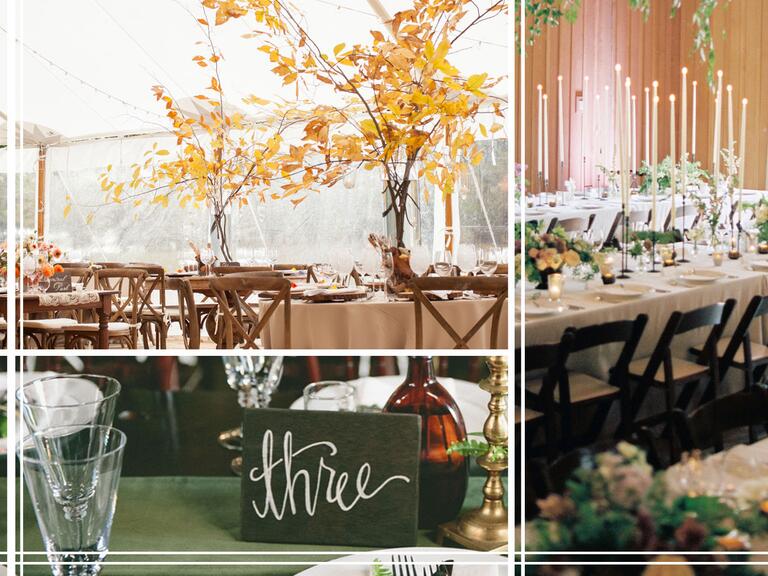 Bring your décor to new heights—literally. The space between the tabletops and ceiling is really being taken advantage of. After all, if you can't build additional square footage onto your reception space, build up! If your wedding theme is more formal, go for tall candles and ornate candelabras. If you want to keep things rustic and natural, bring the outdoors in with leaf-adorned branches. (Bonus: The beautiful changing colors in the leaves act as their own décor.)
Finishing Touches: No matter the theme, calligraphy brings a handmade vibe to your décor that gels perfectly with breezy, rustic centerpieces or romantic candlelight.