Our Top 10 Favorite Flower Displays
Here are some of our favorite ideas to get you dreaming up the perfect florals for your own day!
Flower Chandeliers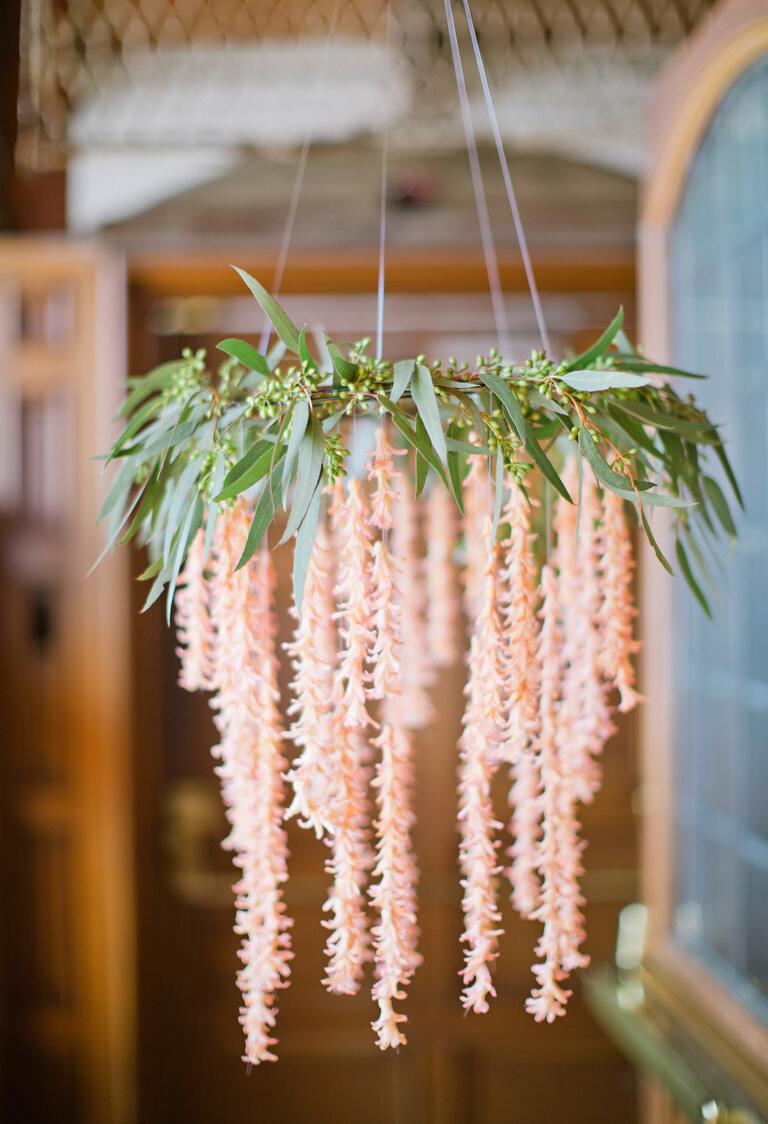 Swap out the more traditional crystal chandelier for a hanging arrangement of flowers that mimics the look and feel of a light fixture. Try hanging long strings of flowers, like these pink hyacinths, and cover the top in greenery and berries for a garden-fresh feel.
The Cascade Bouquet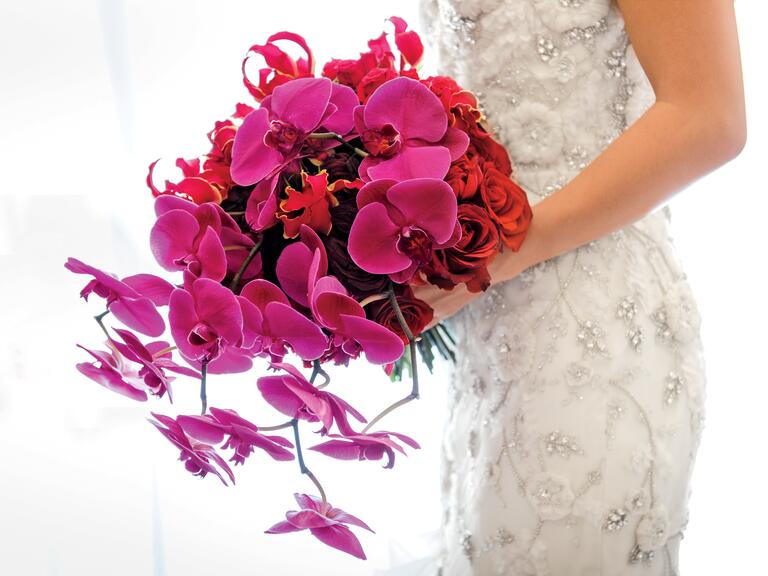 It's a classic re-imagined (remember Princess Diana's 1981 bouquet?). The cascade of today is a loosely gathered arrangement. Flowing ribbon, greens and vines add to the less-structured look and give the bouquet its "cascade."
Chair Garlands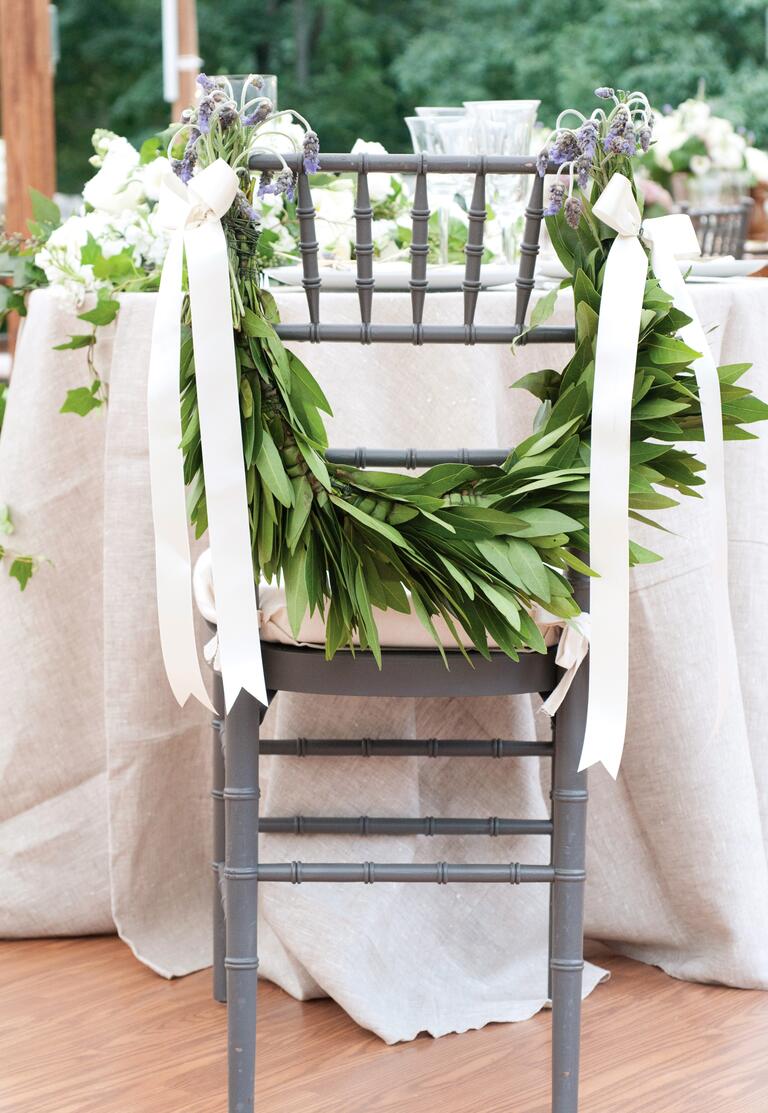 Whether you want to distinguish your own chairs or your bridal party and parents at the reception, flowers are an obvious way to go. Opt for leafy garlands (we love magnolia leaves) or add in a few pretty blooms for extra-special guests.
Hanging Single-Stem Bottles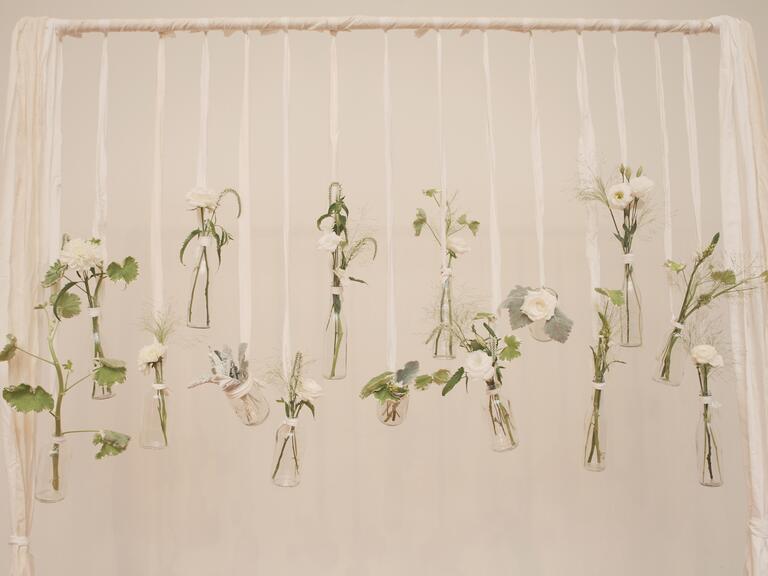 This unexpected idea makes for a pretty ceremony backdrop (and an easy DIY project). Glass milk bottles and a few stems in monochromatic shades tied securely to your arch or a ceiling beam create a wow-worthy hanging installation.
Inverted Centerpieces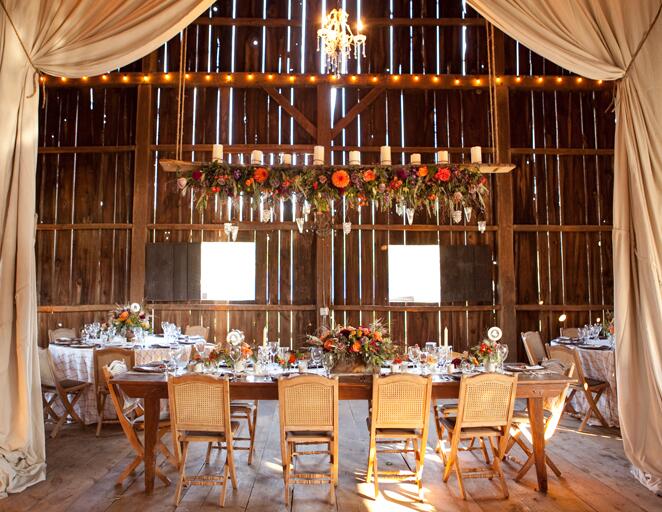 Try this unexpected take on the centerpiece: Have your florist place a planter filled with lush blooms above the table, with the stems hanging upside down. Fill the table with monochromatic pillar candles to draw guests' eyes upward.
Flower Walls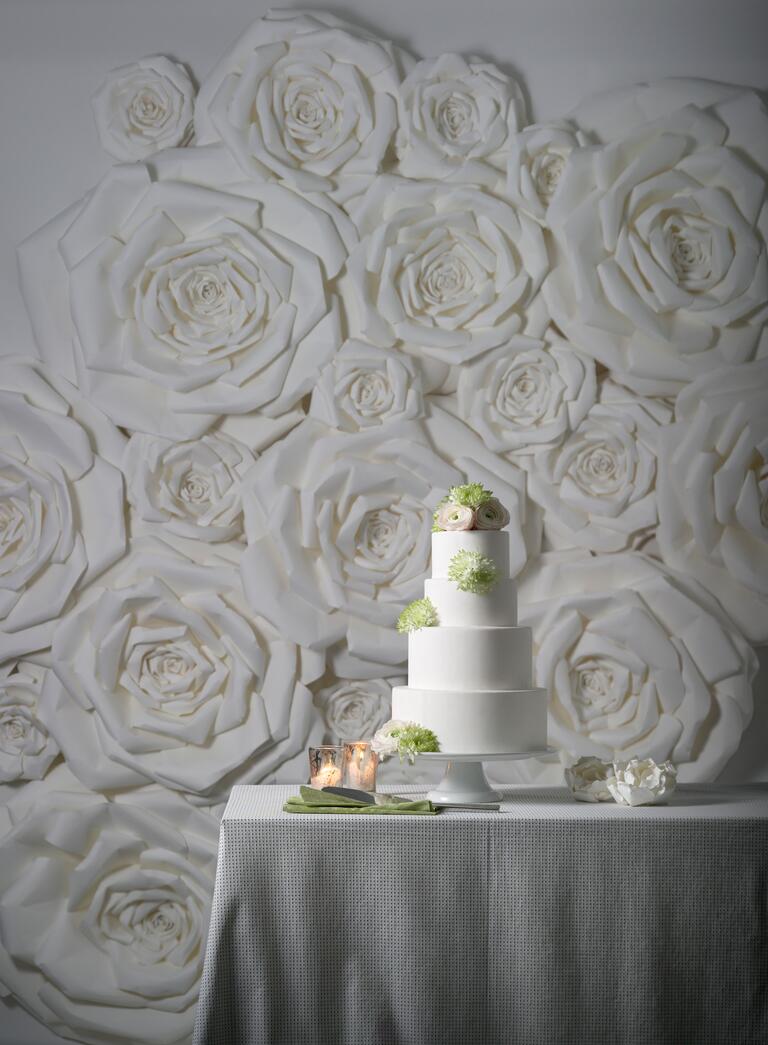 Flower-covered walls are the next big thing in wedding flower décor. And why not? This idea pulls double-duty as both a ceremony and photo booth backdrop. It's also a great way to bring the outdoors in if you're saying "I do" in a ballroom setting.
High Branch Centerpieces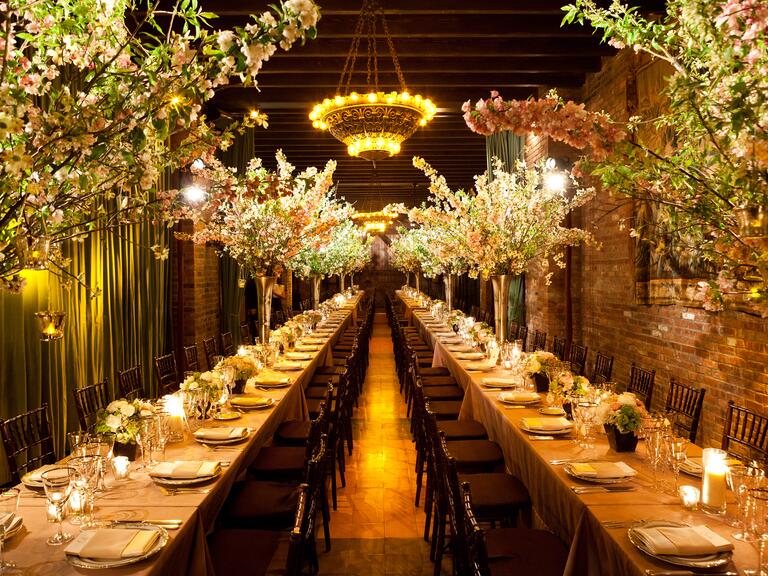 Bring the forest indoors with arrangements of branches that almost reach the ceiling, creating the effect of trees. These stunning skyscrapers will make a big impact and encourage conversation among guests.
Mini Floral Crown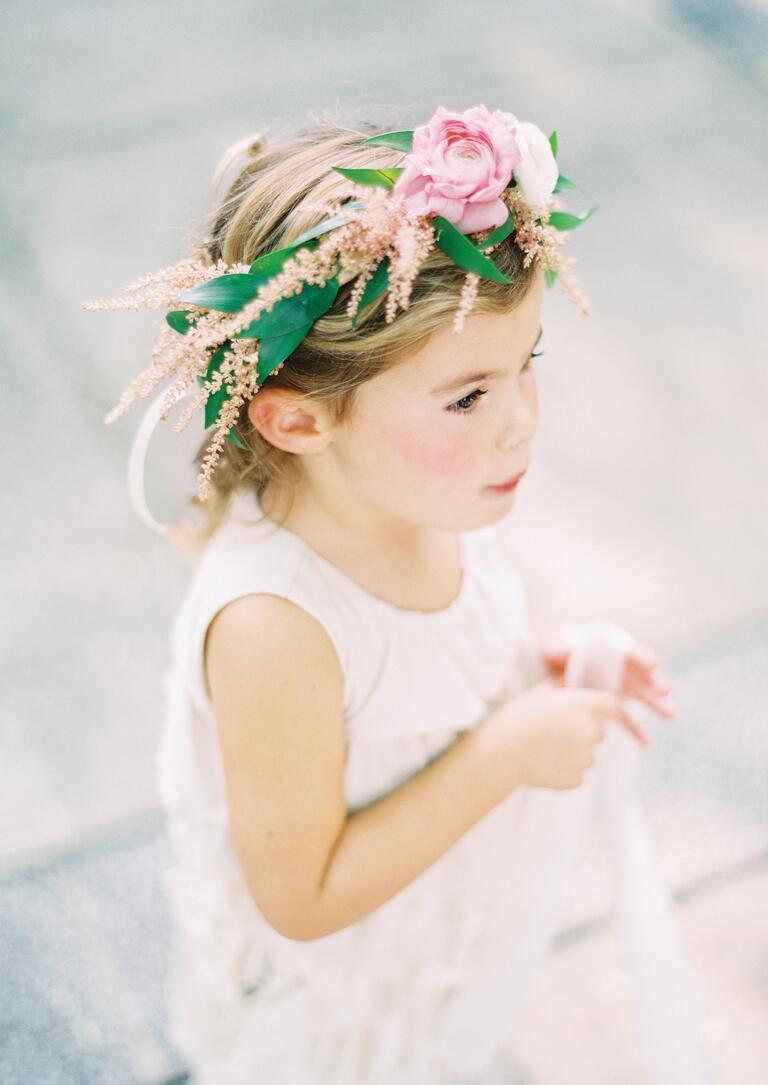 Floral wreaths are big for brides, and fun for little attendants too. Let a wreath of blooms stand in for a basket of petals. Or opt for a floral crown and a banner or sign announcing your arrival.
Low Centerpieces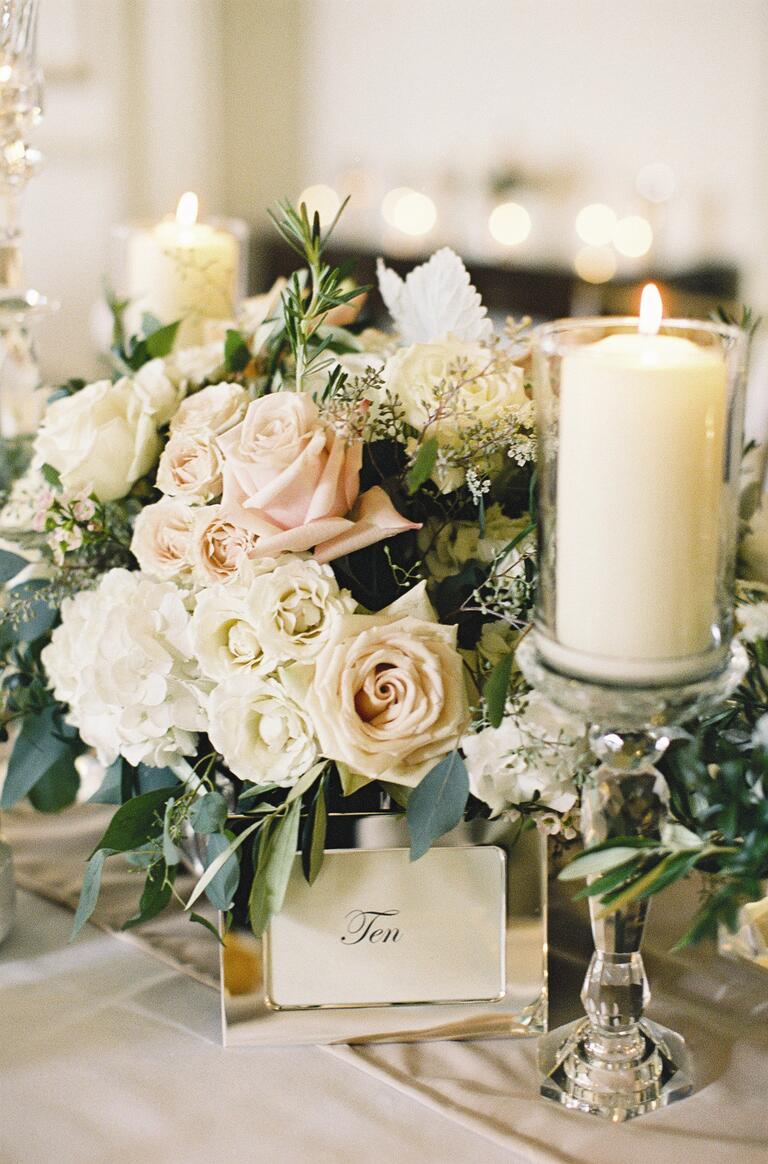 Encourage conversation among your guests with low and lush arrangements. Big-headed blooms, like hydrangeas, roses and peonies, pack a nice punch, while cascading vines give the centerpiece a natural, undone feel.
Ombre Centerpieces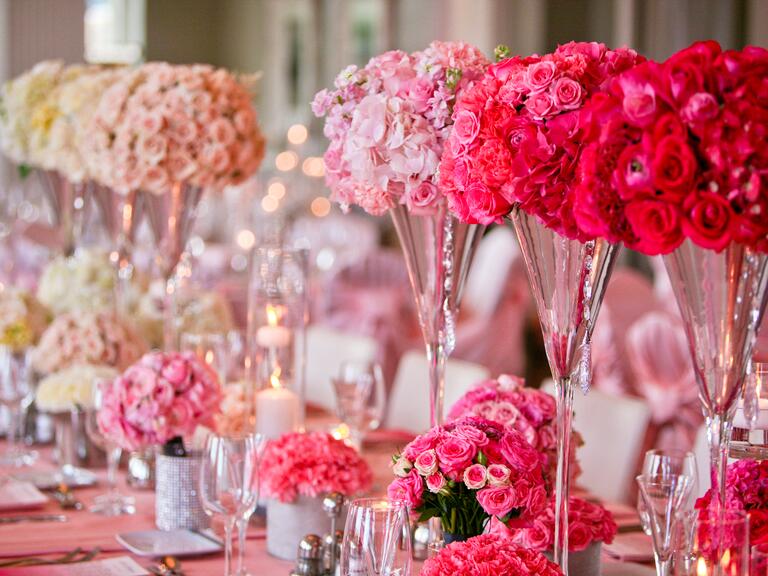 The ombre look isn't going anywhere anytime soon. It's made its mark on almost every wedding element, from invitations to cakes and even dresses. This look works best on long tables, so you can really see the slight variation between each shade. Stick to one flower type, like roses or hydrangeas, to really make the colors pop!