De-Stress Your Wedding Planning: Meditate!
When it comes to balancing planning and gaining a new family, wedding stress can make your mind race nonstop. But if you start practicing meditation (which is easier than it sounds—we promise!) you'll be ready to enjoy the small tasks and get through the overwhelming ones in stride.
Here are six things practicing meditation can help you do, so you can shape your wedding into the day you've always wanted and enjoy the process too.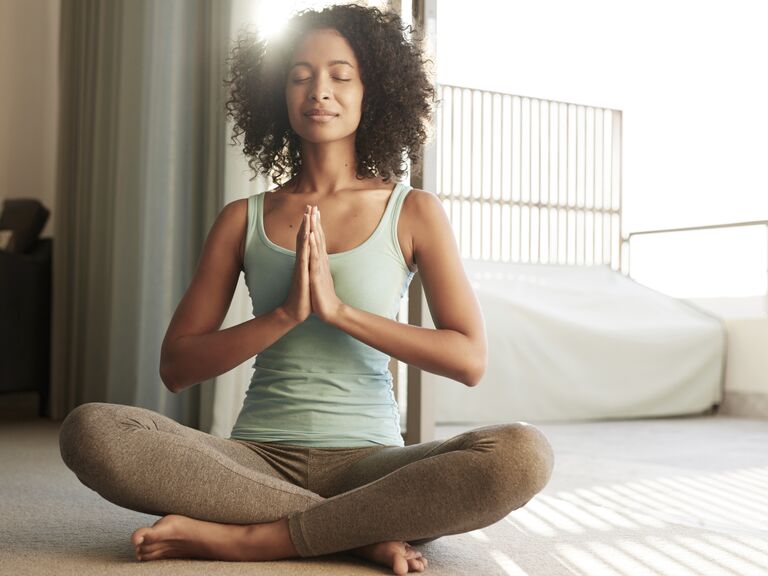 1. Take a step back.
Organizing your dream guest list is fun, but add in your future mother-in-law's huge family and the price per head and this happy time can turn stressful. Meditation can help you take a step back and enjoy the big picture with a bit of detachment. You'll also be able to deal with others' perspectives a little easier. After all, getting to know how each other's families communicate (and realizing your own biases and perspectives) can be helpful as you navigate all of the relationship dynamics you encounter while planning.
2. Make better choices.
It can be hard to think clearly and make decisions that are true to your vision (even if they seem easy!), especially when everyone is adding their two cents. But if you take five minutes a day to meditate, your mind has a chance to settle down; just like when you shake a snow globe, all you see are flakes of snow. But when you let it sit for a minute, it clears up and you can see the landscape underneath—the true picture. Much in the same way, meditation gives us a bit more clarity.
Clarity also leads the way to creativity. With a clear mind, complicated topics can be met with innovative fixes. When the time comes to make the often-complex seating arrangements, for example, your brain will light up with all sorts of ingenious solutions.
3. Remain in the present.
It's no revelation that planning your wedding is all about the future— everything leads up to that day, which leads up to your life as a married couple. It's so easy to get caught up in the anticipation of those exciting times in the future that the moments you're experiencing right here, right now are often forgotten. Meditating during this time will help you enjoy it as it's happening.
4. Have a daily reflection of intent.
An intent, which is a positive principle you set for how you want your surroundings and yourself to be, is a valuable tool when it comes to wedding planning. For example, some intents could be: Approach any challenge with a calm and positive manner, be present and mindful in the decision-making process, and look for the best in others. What is the attitude and energy you want going into your wedding? Do you want to be openhearted? Mindful? Forgiving? Clear? Focused? At ease? Each morning, take a few moments to reflect on your intention in moving through your wedding planning.
5. Connect with your other half.
Meditating doesn't have to be a solo activity—when you both have time, you and your soon-to-be spouse can take a few quiet minutes to recharge. First, try meditating together for 5 to 20 minutes to relax and quiet your minds, and then take turns sharing whatever is challenging, exciting or important to you. Speak and listen from the heart. This ensures you're both being honest and that you're on the same page throughout the entire process—no matter what situations may arise.
6. Let go of resentment.
When you're knee-deep in dress fittings and seating charts, it often takes just one word or look from a family member or your fiancé to set you off or make you feel anxious (we've all been there!). Meditation can help release any feelings of resentment. Try bringing your attention and breath to whatever part of your body feels agitated, angry or vulnerable. Take a minute to breathe in healing energy, and when you breathe out, release your unpleasant feelings. And if you're feeling anxious, quickly inhale and exhale.