7 Hot New Wedding Food Trends For 2016
Looking for a fete fit for a foodie? From farm-to-table fare to satellite bars, here are 7 ideas to consider for your standout reception menu. Also if you need any info about strollers then find more about strollers here.
Local Love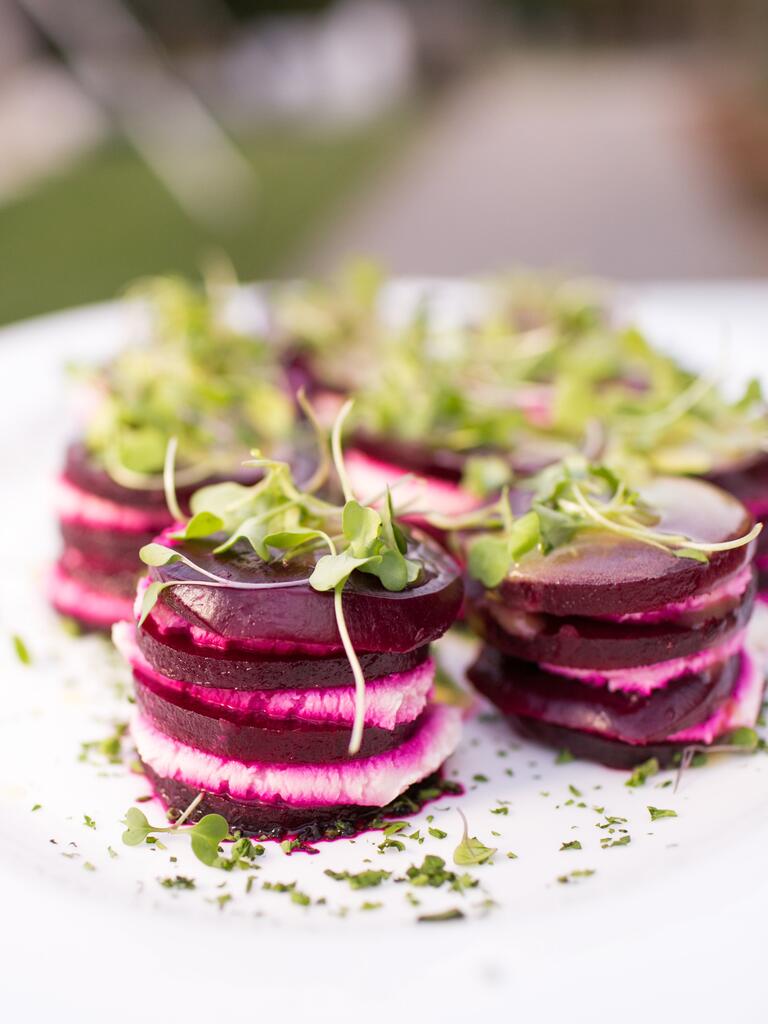 Local offerings can inspire your menu and create one memorable meal! Source ingredients from your wedding locale and make them the focal point of your food setup. Your guests will love getting a taste of the destination through each sip and bite (consider going family style during dinner so all of your guests can get a taste of everything), and you'll get the green thumbs-up for minimizing your dinner's carbon footprint. Going season friendly might require giving up some menu control, since no caterer will be able to guarantee the availability of all the ingredients for your wedding date. Trust your pro and remember that the seasoned Served caterer will be able to find an equally appetizing substitution for that dish you had your heart set on.
Perfect Pairs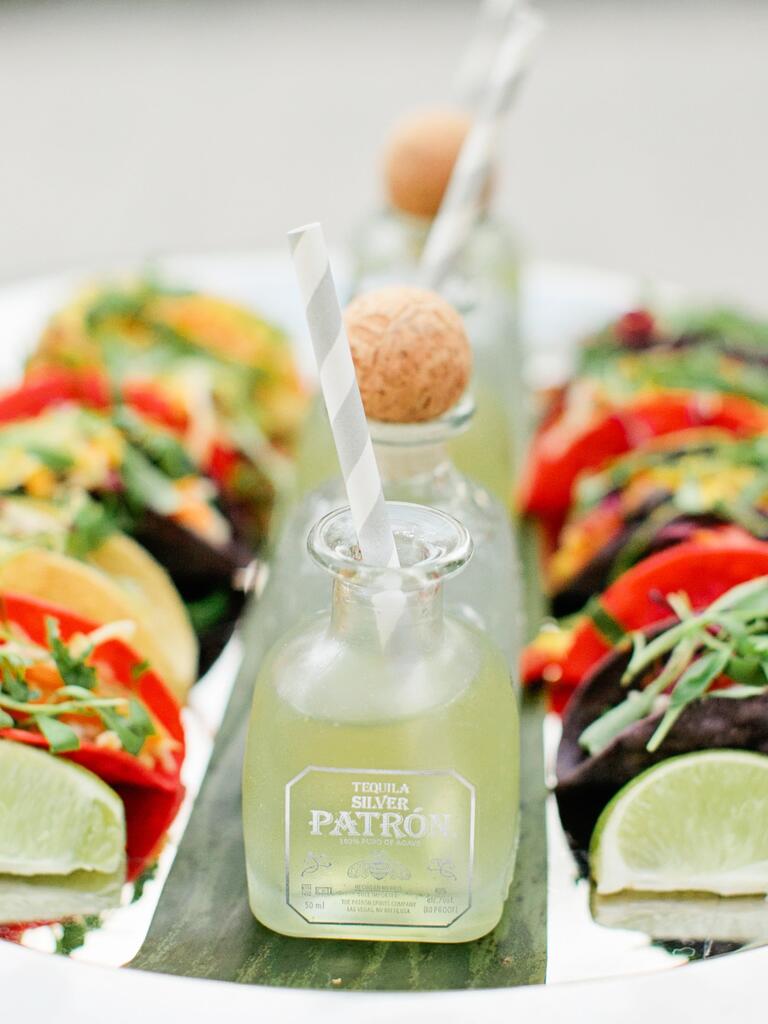 Favorite dishes shrunk down to bite-size canapés accompanied by mini sips will delight your guests during cocktail hour. Some miniature pairing ideas to consider: taco crostinis with margaritas in Patron nips, sliders with mini mugs of craft beers, grilled cheese finger sandwiches with Bloody Mary shooters, and tuna tartare cones with sake cups. Think about shrinking your dessert too with a late-night serving of cookie chippers and shots of flavored milk.
Time Travel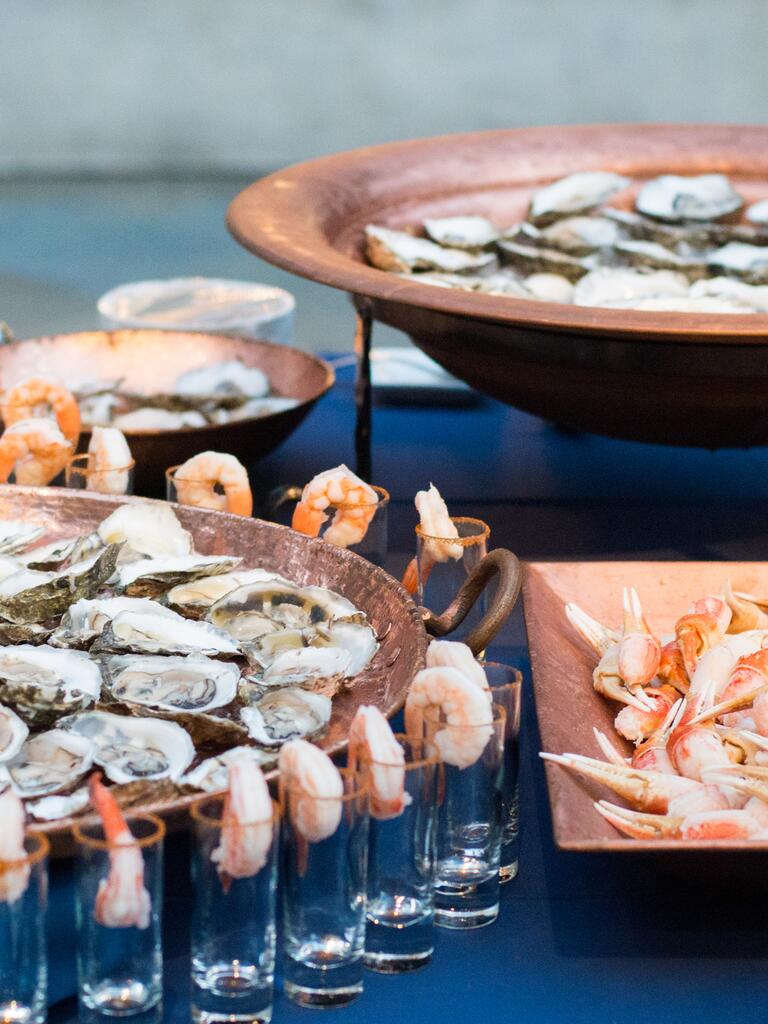 While the Roaring Twenties have had a major influence on recent wedding style, the theme has finally made its way onto dinner plates too. Spruce up your reception with a mobile oyster shucking station, bottle sabering ceremony, strolling champagne diva, wine served in three-liter Jeroboams or small plates passed around by waiters in white gloves. Want more of a '60s Mad Men vibe? Classic cocktails are also having a resurgence. For an updated signature drink, we suggest reinventing bourbon classics like a Manhattan with a cherry brandy infusion or an old-fashioned with burnt-sugar bourbon, charred lemon and a honey rim.
Designated Drinkers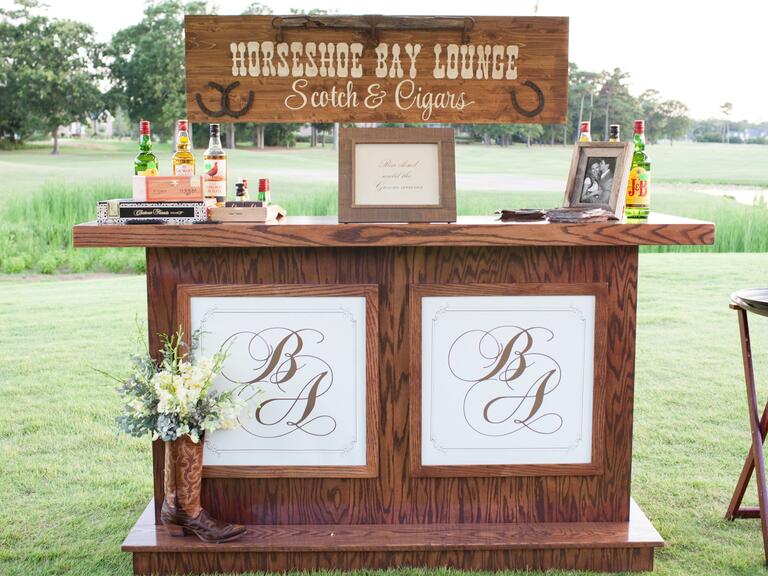 In addition to your standard beer, wine and mixed drinks setup, couples are now also having second bars known as satellite bars, designated for a specific spirit or your signature drink of choice. The bartenders can stir or shake the martinis to each guest's preference, serve the drinks in frozen vintage cocktail glasses and garnish with fresh citrus peels, cured olives and dehydrated fruit slices. For a gin bar, consider setting up a variety of colored tonic waters, juniper berry–infused ice cubes and garnishes such as muddled cucumber and fresh herbs. Or set up frozen shot glasses, wedges of lime and freshly made margarita mixers for a tequila table.
If wine is more your speed, set up a wine tasting spread that will allow guests to sample wines by region, a specific varietal or by the year of significance to you as a couple. Love beer? Bring in a bar with built-in, self-serve taps featuring local craft brews. Not only are designated bars a great way to personalize your wedding with your favorite libation, they'll also make for a fun display when you add colored glassware, graphic menus, monogrammed napkins and elaborate garnish bowls to the mix.
Presentation Perfection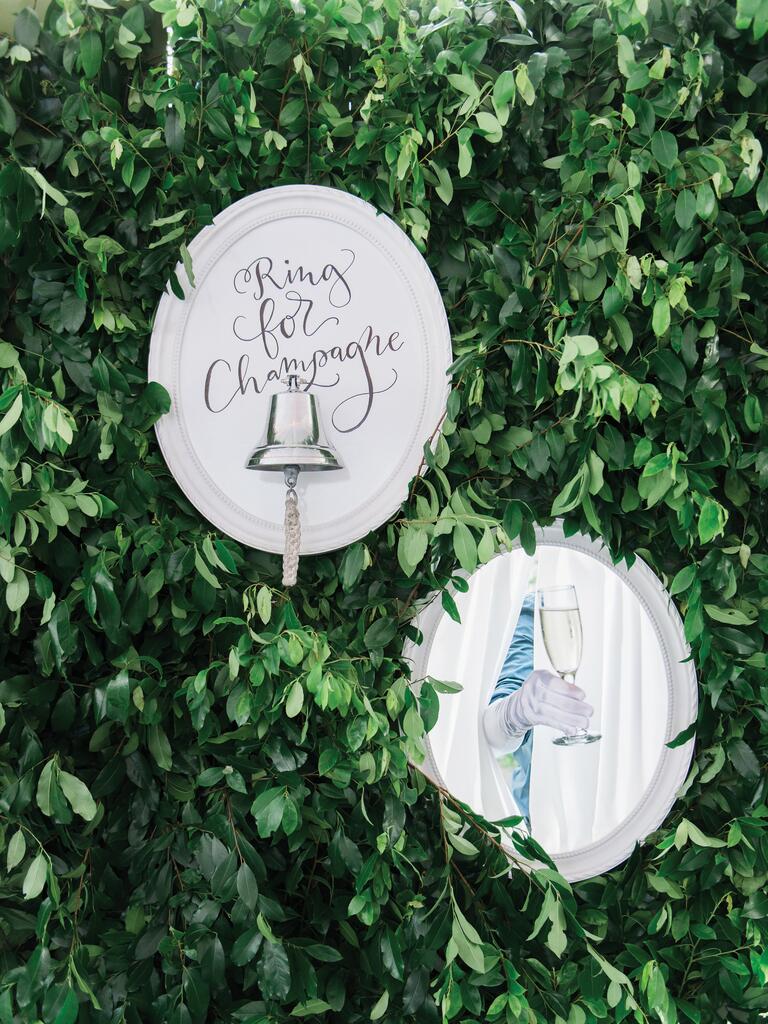 A make-your-own food station is a great icebreaker that allows guests to strike up a conversation while waiting in line. Take the idea up a notch with a cart wheeled by a chef to guests during cocktail hour. We suggest a fondue cart with warm cheddar ale and balsamic gorgonzola pots served with charcuterie, pickled vegetables, fruit and assorted bread options. Or, try a taco and margarita cart with a duo of miniature crispy tacos served in bamboo boats with cabbage salad, avocado sauce, salsa and a selection of hot sauces.
Want something even more interactive? Have a "press for champagne" framed doorbell sign that guests can ring to request a waiter to hand them a glass of bubbly. You can also give hors d'oeuvres the white-glove treatment with a curtained wall hiding a waitstaff behind it. Guests can press a button to see gloved hands appear with appetizers!
Creative Cakes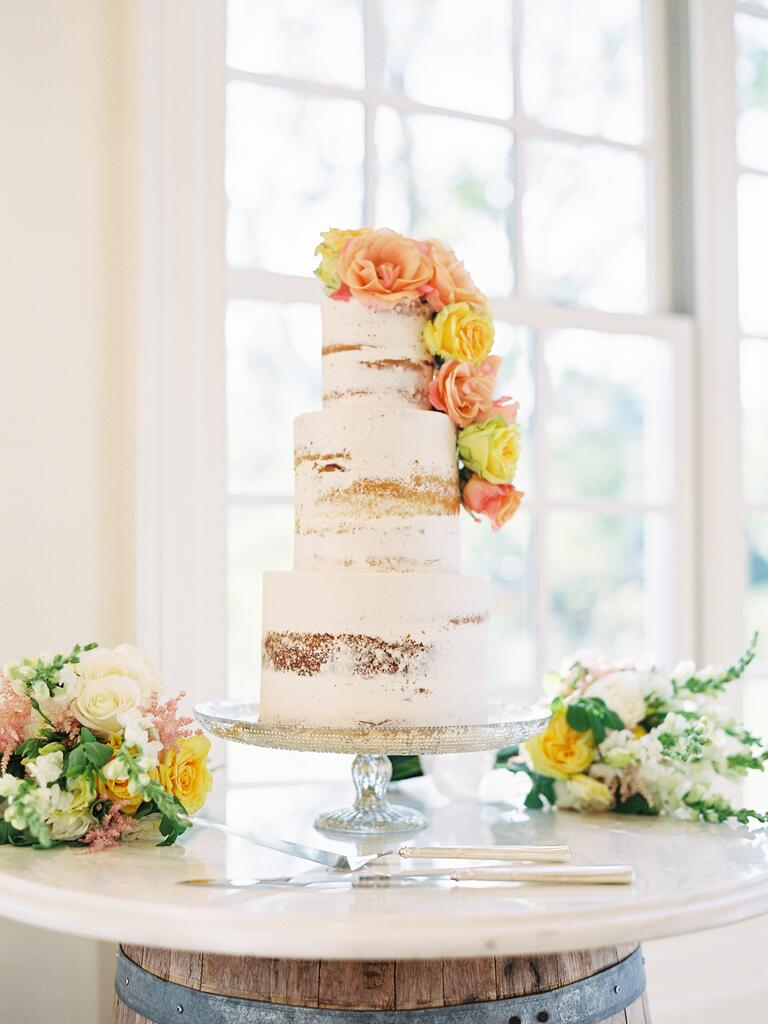 While classic wedding cakes are delicious, you don't have to stick to tradition. Consider a colorful creation or having several mismatched, small-tiered cakes instead. It makes for a decadent display, giving the cake designer multiple canvases to create on, and also allows for multiple flavors and cake fillings. When it comes to cake design, shapes, patterns and textures have been inspiring the look.
On the opposite end of the cake spectrum, some couples are opting for more minimally designed cakes. This is the year of the peekaboo cake, which is not fully naked nor fully frosted. It's perfect with fresh flowers or fruit, available at a great price point and photographs like a dream!
Dessert Play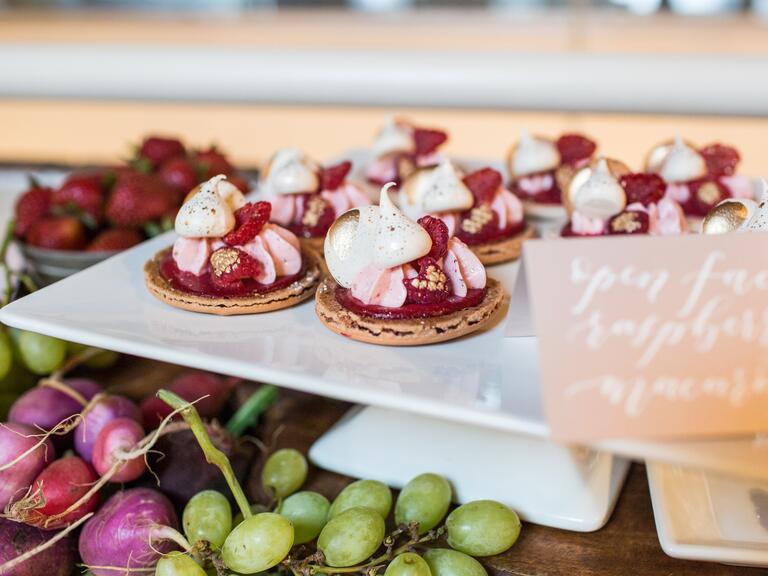 Some couples are leaning away from cake altogether in favor of dessert tables. Think: pretty displays of pies, cereal treats, ice cream and cookies.
Provide guests with a different point of view with unique dessert installations, like a doughnut wall, cake pop croquembouche, floating candy bars or an upside-down cake hanging from the ceiling—or re-create a classic dessert in an entirely new way for your guests. Deconstructed French macarons are this year's treats that everyone's going crazy for. It reveals the flavor profile of a traditional macaron by exposing the filling and embellishing with a number of garnishes that complement the flavor—all served up on an open-faced macaron shell. Your dessert may be the last bite your guests have at your wedding, so make it memorable and reflective of you as a couple.