10 Best Ways to Turn a Big Wedding Into an Intimate Affair
If, like me, you find mingling at even small gatherings just a bit stressful, a big wedding could feel pretty intimidating. And even if you consider yourself the ultimate social butterfly, finding one-on-one time with your long list of guests might be a bigger task than even you can manage. But just because you're hosting a 350-person formal affair doesn't mean your wedding can't feel intimate too. Here are our top tips for making a large event more personal.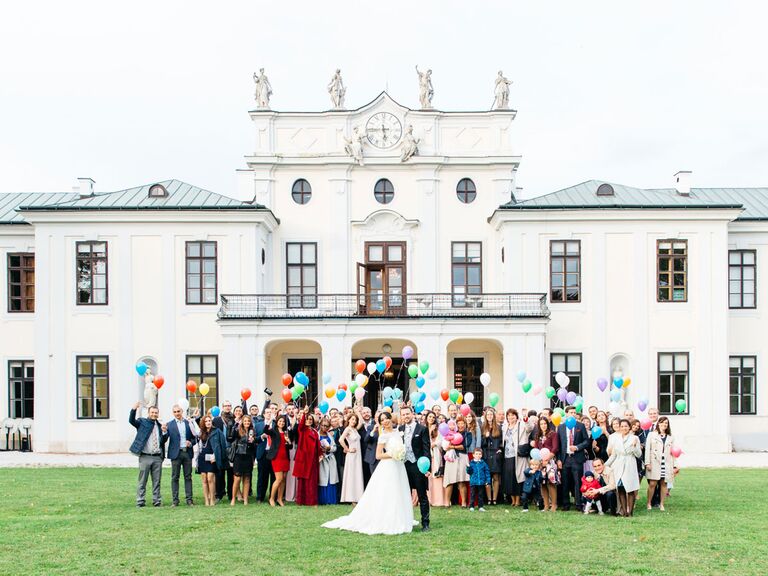 Inviting Cocktails
Consider leaving miniature bottles of champagne awaiting your guests' arrival to the cocktail hour. Tag them with the words 'Drink Me' or 'Drunk in Love,' and give your guests' glasses for a 'just walked into your home' kind of feel.
Space Saver
Move whatever centerpiece you might have in closer to the center of the room to make it feel as if the space has shrunk. Then by adding a warm amber uplighting effect, the room will likely feel much more intimate.
Light the Way
Incorporating a variety of soft and romantic light can help create an intimate and welcoming atmosphere. Uplighting, lanterns, ceiling and market lighting will enhance the mood. Beware of harsh or bright lights, such as spotlights, and when in doubt, add an array of candles for a touch of romance.
Family Feast
Choose long tables over smaller round ones to create a feeling of being at an intimate dinner party with friends and family.
Give Centerpieces the Lowdown
While big, tall centerpieces may feel appropriate for a large wedding, consider a low and lush option instead. With low centerpieces, guests are able to see one another and carry on conversation.
Meal Mingling
One way to make a large wedding feel intimate is through food stations. Guests will have an opportunity to interact with one another while selecting their food rather than staying seated through the entire reception.
Greet the Guests
Key to intimacy and is taking time to spend a few minutes at each table greeting guests. And it only needs to be a few minutes; a heartfelt 'thank you for coming.' You'll want the opportunity to enjoy mingling with your loved ones and friends, and bonus, your guests will feel more included in your day because of it.
Casual Corners
Designate a space that's away from the reception room for guests to gather and chat—for example, an intimate cigar lounge with a rustic feel complete with wood furniture, Mexican blankets, rugs and a fire pit.
A Dance Among Friends
Consider inviting all the guests to gather along the edges of the dance floor right before your introduction, then go right into your first dance, warmly surrounded by family and friends.
Keep Them Entertained
Set up intimate lounge areas that cater to specific activities and smaller groups of guests, like a cigar and whiskey lounge.